Description
(To understand how about plaster systems work in general, visit the Acoustic Blog here)
Configuration of BASWA acoustic plaster systems
BASWA acoustic provide wide range of acoustic plaster systems with different functionalities.
There are as follows:
BASWA Phon – The original acoustic plaster system.
BASWA Basic – Resilient system for walls.
BASWA Natural – with the backing layer made with kenaf plant fibres (see the below and the section on materials).
BASWA Hybrid – Allows seamless coverage of acoustic and non-acoustic areas.
BASWA Cool – Thermally active acoustic plaster system with radiant heating and cooling.
BASWA Core – Passive conductive system for thermally activated concrete substrates.
All the systems above are finished with the BASWA acoustic marble plasters, which are available in a single coat or two-coat (classic) finish.
From most granular to smoothest: Base, Fine or Classic Top.
BASWA systems are made with:
a backing layer: sound absorbing panel made of glass or natural fibre. This is the main sound absorber.
a base layer, porous and acoustically transparent precoat layer (optional).
one or two porous and acoustically transparent plater finish layers.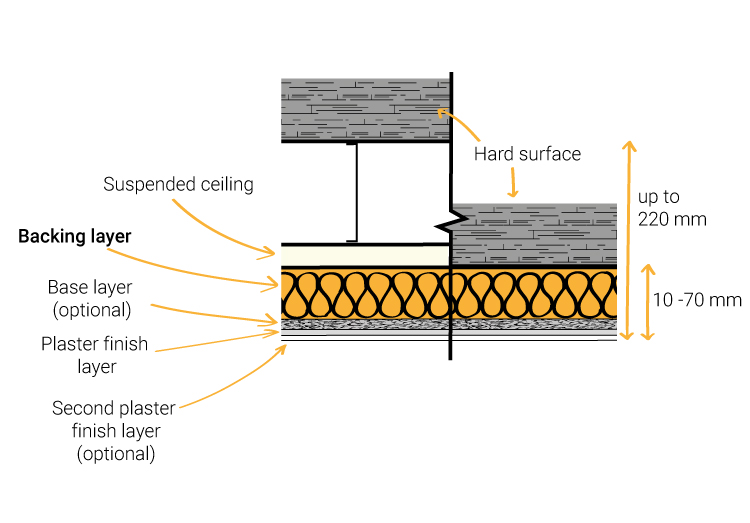 The thickness of the systems (adhesive + acoustic panel + finish layers) can be either 30 mm, 40 mm, 50 mm or 70 mm.
Openings for installations such as recessed luminaires, motion and fire detectors, surveillance cameras or also loudspeaker boxes, can be easily accommodated during installation.
Sound absorption of BASWA acoustic plaster systems
Generally, the sound absorption performances of BASWA systems plaster systems range between Class C up to Class A (especially with either 70 mm panels and/or a 200 mm plenum behind).
Some interesting sound absorption features are as follows:
above approximately 1000 Hz (i.e. at mid, 'high-mid' and high frequencies), the absorption coefficient is pretty consistent (i.e. between 0.8 and 1.0) for all BASWA systems.
below 1000 Hz (i.e. at low and 'low-mid' frequencies), the absorption coefficient increases with:

the presence of a plenum behind.
Sound absorption coefficients of 70 mm BASWA Phon Classic Base with

no plenum

and a

200 mm plenum

behind
the thickness of the acoustic panel. In this case, the thickness of the backing layer varies, but the finishing layers are the same for all systems.
Sound absorption coefficients of

30 mm

,

40 mm

and

70 mm

BASWA Phon Base systems
For an equivalent panel thickness and plenum size, BASWA natural made with kenaf plant fibres absorbs slightly less sound than the other products made with glass fibres. See below for more information about BASWA Natural.
Directly fixed to a hard surface or with a 200 plenum behind, the BASWA Cool range achieves class D and Class C sound absorption classes. See below in heating and cooling capacity for more information about BASWA Cool.
Other physical properties and aspects of BASWA acoustic plaster systems
Reaction to fire
BASWA systems have a fire classification of A2-s1-d0 (DIN EN 13501-1).
Moisture/humidity/weather resistance
BASWA products can be installed in humid areas (such as swimming pools) or even installed in covered outdoor areas. A hydrophobic impregnation coating is available for areas where there is a risk of splashing liquids.
Colors and shapes
Colors are open to design and BASWA can tint the coatings to match any colour. The products can be curved to follow a certain ceiling or wall shape.
Heating and cooling capacity
BASWA have developed the BASWA Cool range that integrates a network of capillary tube mats within the precoat base layer. The tubes have a diameter of approximately 3 to 4 mm.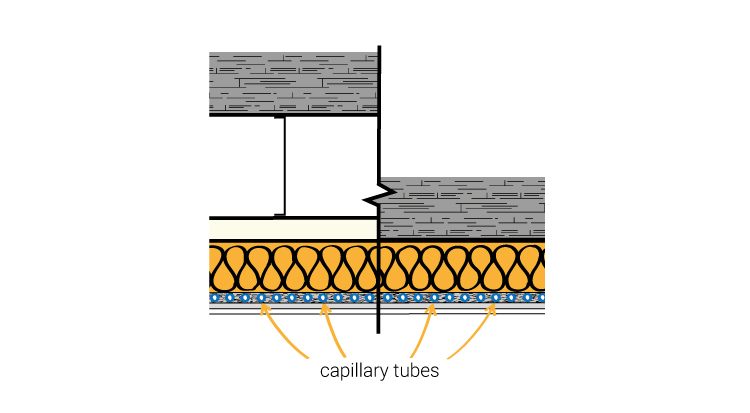 For more information on the acoustic characteristics of BASWA Cool, see above in the sound absorption section.
For more information on the heating and cooling performances, visit BASWA acoustic's page here.
Materials used in BASWA acoustic plaster systems
Materials
For all BASWA systems, excluding BASWA natural, the backing layers are made with 100 % glass fibres.
As a more sustainable alternative, BASWA Natural includes a backing layer made with 100 % kenaf fibres.
What is the consequence for the sound absorption of the systems that use BASWA Natural ?
With an equivalent thickness and plenum size behind, the sound absorption is slightly reduced (see the section above on sound absorption). Therefore, you might need to cover a larger area to provide similar sound reverberation characteristics. But this might not be necessary depending on the situation.
The precoat and finish layers are made with marble aggregates and expanded glass.
Sustainability certifications
Download the latest Environmental Product Declaration for BASWA Phon here: EPD BASWA Phon.
Who supplies BASWA acoustic systems?
BASWA acoustic supply their own products and commission installers who are trained and certified. See BASWA contact details in the Additional Information tab.