Description
The Gustafs Linear Rib products are made with veneered ribs fixed on a metal frame system, with sound absorption behind, and are either installed as wall or ceiling systems.
The two main rib patterns are linear and barcode.
See some systems in the carousel above and Gustafs' brochure for Linear Rib installed on walls and ceilings. See also Gustafs' full catalogue here.
Configuration
Gustafs Linear Rib generally include the following elements:
veneered ribs spaced by 12 mm (24 % open area) or 62 mm (62 % open area). They are either 22 mm or 38 mm wide and their thickness ranges between 12 mm and 74 mm (see below some images of different rib profiles).
one layer of Acoustex acoustic felt (0.2 mm thick).
metal frame fixing system (30 mm thick for wall systems; between 30 mm and 200 mm for ceiling systems).
45 mm stone wool.
See the figures below for more details.


Note: Recessed LED items such as Gustafs D-Line and D-Line Spot systems (produced by Luxlight Skandinavien AB) have been specifically designed to be integrated into the Linear Rib systems.
Sound absorption characteristics
Linear Rib wall and ceiling systems can achieve the following sound absorption performances:
For wall systems:

12 mm spacing between the ribs with 17 mm insulation in a 17 mm cavity: Class C (αw 65, NRC 0.7)
12 mm spacing between the ribs with 45 mm insulation in a 33 mm void: Class C (αw 70, NRC 0.8)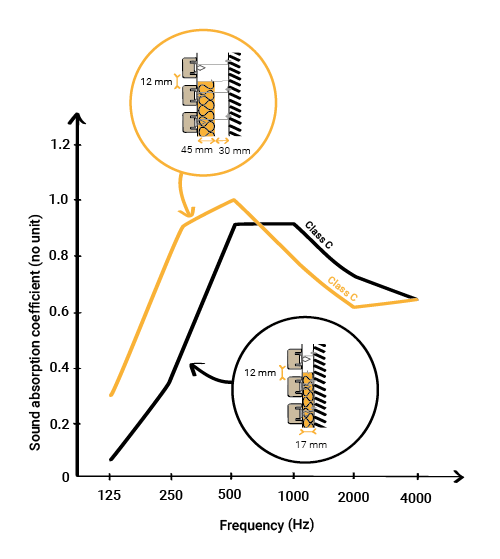 For ceiling systems:

12 mm spacing between the ribs with 45 mm insulation in 200 mm void: Class C (αw 70, NRC 0.8)
62 mm spacing between the ribs with 45 mm insulation in 200 mm void: Class A (αw 95, NRC 1.0)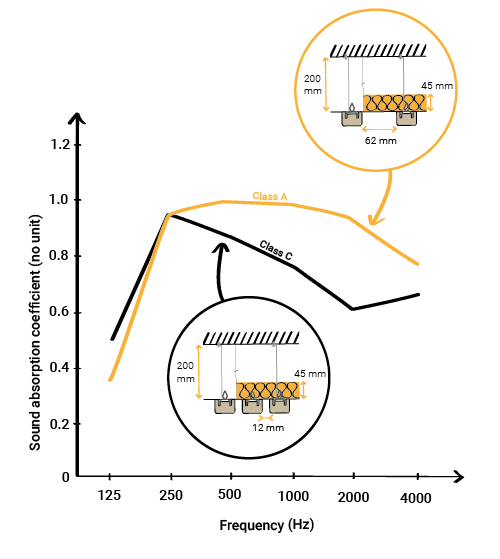 The sound absorption of all products has been measured in line with ISO 354:2003 Acoustics – Measurement of sound absorption in a reverberation room and the absorption class calculated according to ISO 11654:1997 Acoustics – Sound absorbers for use in buildings – Rating of sound absorption.
Materials
Linear Rib systems are made with the following materials:
veneer for the visible part of the ribs.
fibre reinforced gypsum (1200 kg/m3) for the core of the ribs.
non-woven felt base (2 kg/m2) for Gustafs' Acoustex.
Paroc stone wool (28 kg/m3) for the sound absorber behind the ribs
Note: The core of the ribs can also be made with Medium-Density Fibreboard (MDF). In this case, the fire resistance is reduced (see below about the fire resistance).
Rib colors and designs
Linear Ribs are veneered with one of the two following veneer options:
NATURAL giving the ribs a 'natural' wood character with a variety of lacquers and options to add pigmentation.
GEMINI giving the ribs an even color tone which is very open to design (i.e. nearly any color is possible).
Note: There is also the option to print some particular designs on the ribs.
Acoustex (acoustic felt directly behind the ribs) also comes in three different colors: Anthracite, Dark Grey and Wool Grey.
LINEAR Ribs are available in different thicknesses ranging from 13 mm to 74 mm and widths of 22 mm, 38 mm or 88 mm.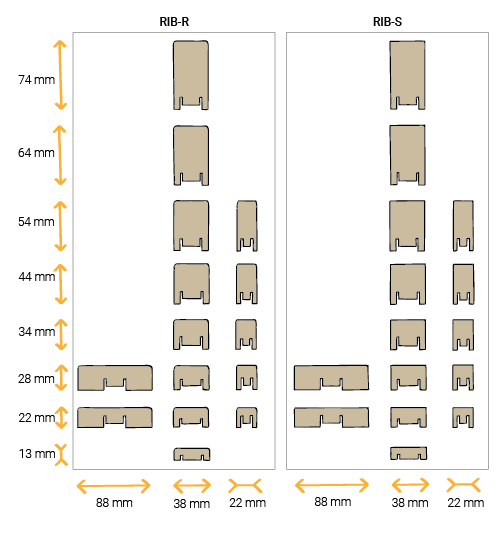 It is also possible to manufacture bespoke rib profiles to follow a certain interior design.

Although most Linear Rib systems are flat, they can also be curved to follow a certain wall or ceiling shape.
Fire Resistance
Linear Ribs, with the core made with fiber reinforced gypsum, and Gustafs Acoustex have a fire resistance of B-s1,d0.
When the ribs core is made with Medium-Density Fibreboard (MDF), the fire resistance of the ribs is reduced to D-s2,d0.
Impact Resistance
The High Impact Ribs (HIR) made with a fibre reinforced gypsum core are resistant to impacts, enough to be used in places where (strong) impacts can occur such as schools and sports halls.
Humidity Resistance
Although the Linear Ribs can't be installed in wet rooms (with high humidity), they can be installed outside in a sheltered area like under canopies.
For more information about humidity resistance, get in touch with Gustafs or your local supplier.
More information on LINEAR Rib systems?
If you need more information on Linear Rib systems, get in touch directly with Gustafs. They will be able to direct you to your local supplier.
If you supply Gustafs Linear Ribs in a country outside of Sweden and Norway, please get in touch at marc@ateliercrescendo.ac and you will be added to this section.
Environmental characteristics and certifications
Gustafs has the FSC® certification and Linear Rib products don't contain any added urea-formaldehyde and are produced with "100% renewable power".
The ribs are made of 94% recycled material with 17% Post-Consumer recycled material, and Acoustex (the acoustic felt) "contains minimum 50% Post Consumer recycled material".
Find the Environmental Product Declarations here for the Linear Ribs and the mounting system panel (without the felt or the mineral wool behind).
The stone wool, used as the main sound absorber in Gustafs systems, is sourced from a Finish company called Paroc . They have very strong sustainability goals and produce a carbon neutral stone wool product Paroc Natura Lana . If used as a sound absorber, Paroc Natura Lana would need to have the same density (28 kg/m3) as that of the original stone wool product used during Gustafs' sound absorption tests.