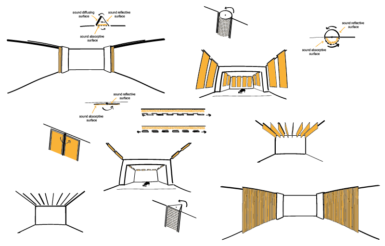 Variable sound absorption systems
If you are working on a building project with a large space, you might want to use it for a broad range of activities.
Depending on the building is, the activities could be:
amplified music performances
quiet acoustic music performances
loud acoustic music performances
drama performances
conferences or lectures
sports events
exams
fairs
and more.
The space will not only need to be very flexible physically to accommodate these activities, but also acoustically. In fact, each activity requires very different sound reverberation conditions to work optimally and ensure acoustic comfort for the users (and listeners for some cases).
Note:

If you need a refresher on the basics of sound reverberation, go to

this page.
One of the ways to make a space acoustically flexible is by changing the sound absorption in the space. Essentially, you either:
reveal or add sound absorptive materials to make the room less reverberant, and;
hide or take away sound absorptive materials to make the room more reverberant (or more lively).
This is done with systems called variable acoustic systems or also variable sound absorption systems.
Note:

Other ways of changing the sound reverberation in spaces is by changing their volume or artificially adding reverberation with electroacoustic systems.
What are these systems? This post presents, with pros and cons explained, some of the most commonly used variable sound absorption systems, including:
Note:
the following documents have been helpful to write this post:
Auditorium Acoustics and Architectural Design – Mike Barron;

Acoustic Absorbers and Diffusers: Theory, Design and Application (Third Edition) – Trevor Cox and Peter d'Antonio

Sound Materials: A Compendium of Sound Absorbing Materials for Architecture and Design – Tyler Adams
Acoustic Curtains/Drapes
Acoustic curtains can be either:
extended along walls to lower the sound reverberation in a space, or;
stored in corners or in dedicated cupboards to increase the sound reverberation.
To know more on acoustic curtains (such as installation, acoustic performance, characteristics of the fabric, etc), follow this link to the Acoustic Design Catalogue.

Pros

Relatively cheap
Acoustic curtain systems mostly involve fabric and a rail, which is relatively inexpensive compared to other sound absorption materials or systems.

Easy to operate
They are also manually operated. No need for a complicated motorised system.

Quick to deploy
Unlike certain systems that take a few minutes to deploy (or even longer), deploying acoustic curtains only takes a few seconds.
Cons
Limited sound absorption
Curtains are not the most efficient sound absorber. Consequently, you need more material to cover large wall surfaces and provide a sufficient variation in the reverberation time. If you design a space with a large volume, you could also struggle to find enough available space.

Absorb sound at mid and high frequencies
As a fibrous material, fabric is more efficient at absorbing sound at mid and high frequencies than at low frequencies.
Therefore, you will need to find other sound absorption means if you want to control the sound reverberation at low frequencies (especially in spaces where music is played).